OR SEARCH

PROFILE

Use Mine
Change Mine

Special Resources
Career Center
Job Listings
Classified
Aerospace Sourcebook

TSB Sounds Alarm To
Combat Inflight Fires
FRANCES FIORINO/NEW YORK
The Transportation Safety Board of Canada, discovering safety deficiencies in the detection and management of inflight fires in its ongoing investigation of Swissair Flight 111, issued a third set of recommendations related to the 1998 accident--this time pressuring industry to swiftly improve firefighting capability.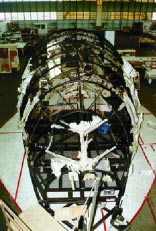 The full-scale reconstruction rig of the forward main deck of Swissair Flight 111 may lead investigators to pinpoint the source and cause of the inflight fire.

Flight 111 was en route from New York to Geneva on Sept. 2, 1998, when the flight crew, detecting smoke in the cockpit, diverted the MD-11 aircraft to the Halifax, Nova Scotia, airport. Electrical problems developed, the autopilot disconnected, flight data (FDR) and cockpit voice recorders (CVR) ceased functioning and voice communications were lost. Inexplicably, Flight 111 turned from the direction of Halifax and plunged into the Atlantic Ocean near Peggy's Cove, southwest of Halifax, at 2231 local time. There were no survivors among the 215 passengers and 14 crewmembers ( AW&ST Nov. 23, 1998, p. 41).

VIC GERDEN, THE LEADING Transportation Safety Board of Canada (TSB) Swissair Flight 111 investigator, said, "We have known virtually from the beginning that the accident . . . was somehow related to a fire in a portion of the so-called 'attic' of the aircraft, that is, the front section of the aircraft above the ceiling, extending about 1.5 meters forward and 5 meters back of the cockpit bulkhead. We also know that the fire spread along flammable material, and, because it was in an inaccessible space, the crew would have had trouble identifying, locating and containing the fire. We do not know yet what started the fire" ( AW&ST Dec. 7, 1998, p. 39).

In March 1999, the TSB issued four recommendations related to recording capacity and the flight recorders' power supply. This was followed by two recommendations in August 1999 dealing with thermal acoustical insulation blankets and related flammability test criteria ( AW&ST Oct. 19, 1998, p. 33). Two safety advisory letters were also issued, one pertaining to aircraft wiring and the other to overheating of cockpit map lights.

Then Gerden last week said the board had made "a number of troubling observations that warrant safety follow-up. These include industry-wide shortcomings in design, equipment, crew training and awareness, and procedures. In the case of Swissair Flight 111, these shortcomings may have made it difficult to quickly detect and suppress this inflight fire."

He said the TSB believes that industry "has not always looked at fire prevention, detection and suppression as being the components of an overall firefighting 'system.' An effective firefighting system would consider and include all aspects of firefighting, such as aircraft design, certification of materials, accessibility to vulnerable areas of the aircraft for firefighting purposes, effective fire detection and suppression equipment, well-designed inflight emergency procedures and fully trained and equipped aircraft crew."

As a result, the TSB issued the five recommendations, pointing out that the "excellent climate of cooperation" between the TSB and the National Transportation Safety Board, FAA, Transport Canada and Europe's Joint Aviation Authorities would lead the world aviation community to take early action on the issues:
Regulatory authorities and industry should "review the adequacy of inflight fire-fighting as a whole, to ensure that aircraft crews are provided with a system whose elements are complementary and optimized to provide the maximum probability of detecting and suppressing any inflight fire." Gerden said "the TSB wants crews to be provided with a comprehensive, integrated firefighting plan that encompasses policies, procedures, equipment, training and other appropriate measures."
The regulatory authorities and industry should conduct a thorough "review of the methodology for establishing designated fire zones within the pressurized portion of the aircraft, with a view to providing improved detection and suppression capability." Such a review, the TSB believes, would reveal there are indeed inaccessible aircraft areas not considered designated fire zones where a fire could ignite and spread, and therefore should be equipped with built-in fire detection/suppression systems. These include electronic equipment bays and areas behind circuit-breaker and other electronic panels. At present, smoke/fire detection and suppression systems in transport aircraft are required only in "designated fire zones," that is, not readily accessible areas such as powerplants, auxiliary power units and cargo holds that contain recognized ignition and fuel sources.
Regulatory authorities should "take action to ensure industry standards reflect a philosophy" that a flight crew's most appropriate course of action is to prepare to land the aircraft expeditiously when smoke or an odor from an unknown source is detected. (Some, but not all, carriers have already adopted this procedure.)
Emergency checklists for odor/smoke of unknown origin should be redesigned so that flight crews may complete them quickly, thereby minimizing the risk of an inflight fire being ignited or sustained. Current checklists are lengthy and often require trouble-shooting procedures that call for shutdown of electrical power or isolation of an environmental system--all of which allows more time for a heat source to ignite or feed a fire. The TSB cites the MD-11 Smoke/Fumes of Unknown Origin Checklist as requiring up to 30 min. to complete.
Inflight firefighting standards--including procedures, training, design equipment--should come under industry-wide review. This would help ensure that flight and cabin crews could respond "immediately, effectively and in a coordinated manner" to smoke or fire conditions in the pressurized section of an aircraft, especially in areas not readily accessible. The TSB found there is a lack of coordinated cabin-flight crew training and procedures to enable them to quickly locate, assess, control and suppress an inflight fire in the fuselage.
Twenty-seven months following the crash of Flight 111, the TSB continues its quest to discover the cause of the inflight fire on board the MD-11. Field analysis has been completed, two million pieces of wreckage discovered and thousands of them analyzed, reconstructed and placed on a jig for study by investigators. The wreckage will be stored at the Canadian Forces Base at Shearwater (near Halifax).
On Dec. 15, the TSB is to move the investigation from Shearwater to its Ottawa facilities for the final analysis phase and eventual preparation of the final accident report--but the board said it was impossible at this point to even estimate when the investigation might be completed.
© December 11, 2000 The McGraw-Hill Companies Inc.
from this link
---
Correspondence | Market Focus | Industry Outlook
Airline Outlook | Washington Outlook | Aerobyte Archive
Business Watch | Who's Where